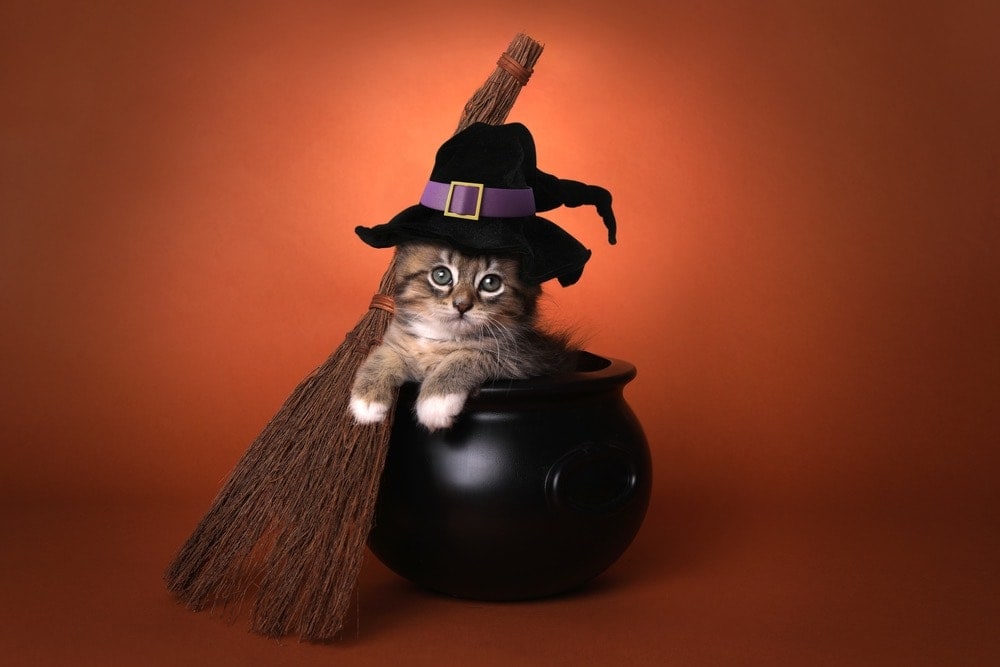 It might not always be typical to dress your cat up for Halloween, but it is a great deal of fun. Our cute little feline friends dressed to look like something else entirely for a night makes their little faces even cuter. And who doesn't love a well-constructed DIY costume?
If you are searching for a costume that you could make for your cat, check out this list of 20 fantastic options. From challenging to simple and cute to squeamish, we have got all kinds of costumes for you and your Halloween-loving friend. While a few examples picture a dog in the costume, these will easily work for a cat's costume.

1. Jockey Cat
Finding a bit of felt fabric and a Ken barbie doll is almost all you have to do to get this look. You can decide to make clothes for the Ken doll or paint him your cat's jockey colors. It is an apt costume for young kittens that love to race around at night and a funnily ironic choice for those lazier Garfields of the world.
---
2. Play Dead
This costume works incredibly well if you are among the few people who have managed to train your cat how to do a trick like "play dead."
All you need is a white T-shirt and red food coloring. Of course, you shouldn't use real blood of any kind because it will be confusing for your cat, and they could make themselves sick in such a costume.
---
3. Clown Cat
To some, clowns are symbols of laughter and fun. For others, they are the scariest creatures in the world. From funny circus acts to terrifying horror films, there is quite a range of material and dressage that you can opt for while crafting this costume. In our example, the costume's focus is on a frilly tulle and a conical clown hat formed with paper and tape.
---
4. Dumpling Cat Costume
Perhaps you are looking for a costume that speaks more to your cat's character than the actual holiday. Some cats are incredible nappers, unwilling to move for almost any reason. A dumpling costume might be the perfect thing for them. There are all kinds of food products that you can use as a costume for your cat, but this dumpling cat costume is undoubtedly adorable. It requires a bit of sewing skill but is still a pretty basic costume to make.
---
5. Witchy Cat
Although it is easy enough to buy a witch's hat that could work for a cat, this article is all about DIY magic. A witch's hat can quickly be knitted or crocheted in an evening for experts or a couple of days for those just picking up the needles. Use a stiff yarn instead of typical soft sheep's wool to keep it pointing up.
---
6. Flower Power Costume
For some cat owners, the costume for their furry baby has to be all about cuteness. Embrace the love of fall and all the other seasons with this adorable felt flower custom. You can use one of their old collars or create a temporary Velcro collar with felt to fasten the flower around their neck.
---
7. Starbucks Coffee
Although this example demonstrates the look like on a Pug instead of a cat, the idea is the same. For kittens that are small enough, you could use the actual hot wrap that goes around your general Starbucks order. Clean off one of your used lids and upcycle it or ask them for an extra one around the holiday. If your cat doesn't fit into one of the Starbucks wraps, then make your own using cardboard, scissors, and a green marker.
They can wear the same costumes, but can pugs and cats get along? Click here to find out!
---
8. Rocker Cat
Fleshing out a cat's attitude and unique personality is a great way to select an outfit for them year after year. This Rocker Cat costume can have the vibe of a hippie from the 60s or of a modern temperamental teenager. It depends on your cat and the style that you want.
---
9. Robin Hood Cat-In-Tights
A puppy looks a little too innocent to be the cutthroat-but-kind character of Robin Hood, so it's perfect for a cat. The outfit is primarily put together using cutout pieces of various colored felt. You can use sticks or wooden dowels for the arrow, or keep it extra simple by taping the felt for the arrows to the end of pencils. You can make the bow with another thin stick or dowel. Use leather or twine to pull the two ends together.
---
10. Cat Gnome
Garden gnomes are fantasy creatures that can mix cute and friendly or scary and nightmare-esque. It is up to you what the vibe of the costume will be for your cat. Use a typical cat shirt or sweater, and pair it with a costume beard. You can make ears from felt or sew them with fabric, along with the hat.
---
11. Sushi Roll Costume
There are plenty of ways to construct a sushi roll costume for your cat. It is extra perfect if they happen to be white, like the rice on the bottom of a roll. Use a black band, which can be something as simple as a headband, to hold the top of the sushi to your cat, which acts as a long piece of seaweed. Finally, you can mimic the look of raw salmon by using one of your cat's fish toys or breaking out the felt, glue, and scissors once more.
---
12. Corona Cat
A costume like this is funnier for the owner than it probably is for the animal dressed in it. The construction is relatively basic, primarily using doll or baby clothes, a stuffed toy, and an empty box of Corona. It is easiest to put the costume pieces on one at a time instead of trying to join them all together and slip them over their head. Just remember that your cat has a tail!
---
13. Strawberry Cat
Another sweet solution to a Halloween costume is a strawberry. It is often easiest to purchase a red shirt or sweater that is already meant for use on an animal to fit them properly. Use white or black felt to make it look like a strawberry. You can also use felt and fabric glue to make the strawberry's top and stick it on your cat's back.
---
14. Bag of M&Ms
Have you just had a litter of cute kittens that you want to bring out and show the world? Or maybe you are a proud cat parent of an entire cat family. Make them all matching costumes by picking a theme, like M&Ms. Felt is our suggested medium for this costume. Simply strap it on underneath their stomachs or attach it to their collar. If they get tired, you can roll them around in your very own M&M bag stroller!
---
15. Loopy for Fruit Loops
A Golden Retriever is the somewhat unwilling participant in this custom feature. All you need for this costume is safe plastic to form a "cone of shame" around their heads.
Use different colored sponges and cut them into donut shapes to make them look like fruit loops. You can glue them in place so they won't fall out when your cat begins to walk around. Just make sure they aren't too heavy and won't strain your cat's neck. You can also use tin foil to look like milk being poured into their "bowl."
---
16. Fun Little Football
Some costumes might be simple, but that doesn't stop them from being incredibly cute or practical. If you have a cranky kitty that doesn't like being stuffed into costumes year after year, try this football idea. It works best with brown-colored cats, so it is up to you whether you want to explain it all night otherwise.
Cut out felt or white cardboard to look like the seams along the top of a football. You can try to tape it in place or hold it there with a thin headband or string if that doesn't bother them too much.
You might also be interested in: How to Get Your Cat to Play
---
17. Halloween Catcake
While some of our pets are grouchy and intolerant, some are as sweet as pie — or cake. You can make this entire costume out of five different colors of paper. Bend, cut, fold, and glue them into place, attach it to a band or a string to fit underneath their front legs and around their stomach, and voilà — you have a Cat-Cake!
---
18. Bat Cat
Here comes Bat Cat! With felt and paper magic, you can create a bat suit for your fearless feline. Use Velcro to keep it fastened around the front of their neck and behind their legs. You can also add costume wire if you want to keep the wings up all night long.
---
19. Ahoy, Matey
Although parrots are typically associated with pirates, who said that cats never joined a ship's crew? Sewing skills will help you construct this costume with a bit more finesse, but you can also make it simpler by using felt and fabric glue.
---
20. Nerdy Cat
Cats can give us the most know-it-all looks sometimes. Why don't we supplement that knowledge with a simple costume? Conveniently make non-prescription frames using pipe cleaners and an eye for detail.
You might also be interested in: Best 10 Best Cat Costumes for Halloween 2021 – Reviews & Top Picks

---
Featured Image: Katrina Brown, Shutterstock