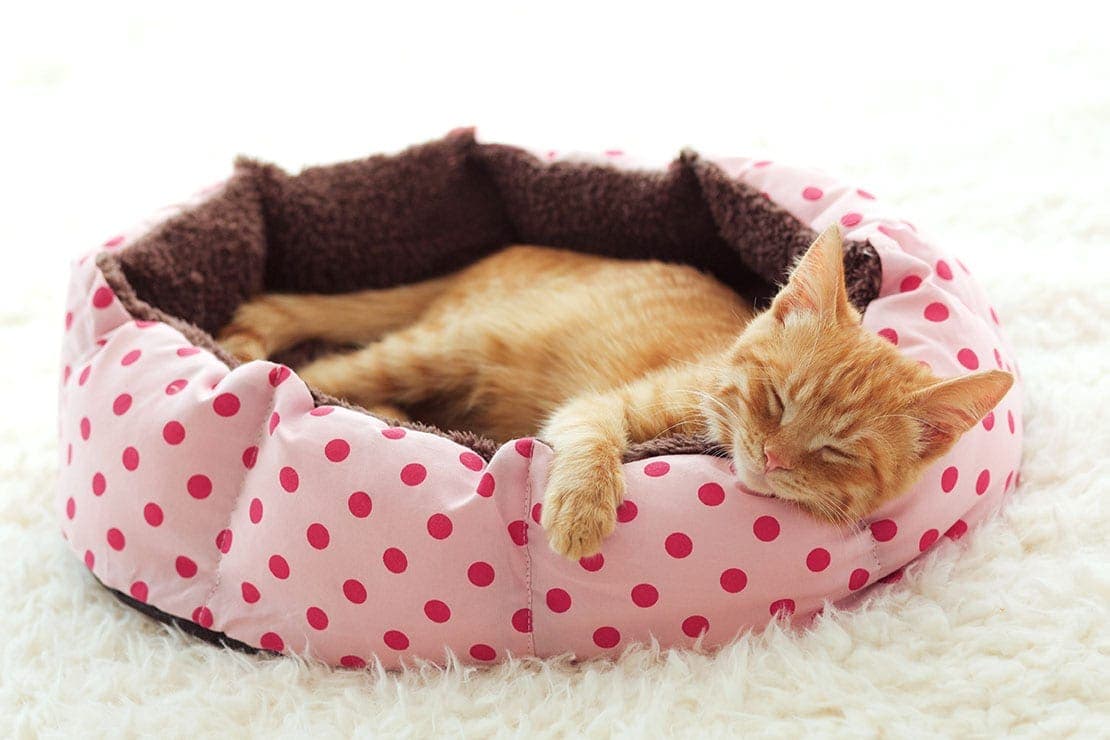 Even when you buy your cat the luxurious, expensive cat bed that's supposed to make your feline fall in love, they may turn their nose up at it and refuse to go near it. Such is the life of a cat owner. You never know what your cat is going to love or ignore. So, why spend so much money on a cat bed that might never see use?
Instead, if you have a bit of DIY skill and enthusiasm, you can bucild one of these 15 cat beds. They range in complexity from simple to extravagant, and the skills needed to complete each project vary just as widely. So, dive in and find a project that's within your skill range and start building. At least then if your cat doesn't like it, you'll still get the benefit of having improved your skills during its making!
1. Pet Calming Bed
Does your cat ever seem anxious or stressed? This bed that you can hand sew out of just over a meter of fleece will help calm it down. Even if you don't have much experience with sewing, this project is a great place to start. You'll need only minimal materials, skills, or tools, so don't be afraid to jump in and use this pet calming bed as a way to teach yourself to sew.
Related Read: 9 Best Calming Collars For Cats in 2021 & – Reviews & Top Picks
2. DIY Cat Perch Hanging Window Basket
Cats love to climb and they love to sleep. So, why not combine the two for your favorite feline? This DIY cat perch hanging window basket is an easy-to-build DIY cat bed that hangs against a window. Your cat will have to climb up to it to sleep, and it will be right by its favorite window where it loves to lie and watch what's happening outside.
3. Easy DIY Cat Hammock
Got a piece of furniture with four legs? With this project from Martha Stewart, you can utilize that piece of furniture to hang your cat a hammock. This will keep your cat comfy and give your furniture dual-duty as a cat bed and end table, or whatever it was in the first place!
4. DIY Cat Tent for Kitties Who Play Hard
Kitties who play hard tend to destroy things, including their beds, houses, or anything else you provide them with. This tent is perfect for such destructive kitties. It's super easy to make out of an old T-shirt and a wire coat hanger. If your cat does manage to destroy it, you've lost nothing! Plus, you can easily replace it with another T-shirt and you're back in business.
5. Easy to Sew Your Own DIY Cat Bed
As the name implies, this DIY cat bed is easy to sew, but you'll probably want a sewing machine to do so. You could sew it by hand, but there's quite a lot of stitching and it could take you a long while. If you've got a sewing machine, this project will be easy and quick for you to make and comfy for your cat.
6. Cat Mini Bedroom Set
If you want your cat to sleep in utmost luxury, then you can build it this mini bedroom set. It looks just like a miniature version of a bed with two side tables that you might find in anyone's bedroom. There's even room on the side tables for your cats' dishes.
7. DIY Fabric Cat Cave Sewing Pattern
The great thing about sewing a fabric cat cave for your feline is that you can make it look completely different just by altering your fabric selection. Luckily, this project is quite easy if you have a sewing machine and basic skills with it, though the end result looks incredible.
8. Cat Condo from a Wood Pallet
We love projects that let us repurpose old materials, such as this cat condo that's made from an old wooden pallet. You can often get these for free, and you might even have one laying around. With two levels in this cat condo, it has many uses for your cat and can even store its food up top along with both dishes and still have room to spare.
9. DIY Cat Tent
Here's another take on the simple T-shirt cat tent. One great thing about this design is that you can customize it by just picking a different shirt to use. The art on your shirt becomes the appearance of your cat's tent.
10. Purr-fect DIY Cat Bed
This cat bed is more of a cat cave really, but it's a bit different from other cat caves on this list as it features two ears that give it the rough shape of a cat's head! You'll probably want a sewing machine if you're going to tackle this project, but it's one of the coolest-looking of the bunch.
11. DIY Cat Cave
This DIY cat cave creates a cat cube. It's similar to the cat tents made from old T-shirts, though the cube design is a bit simpler and offers just a hair more space for your feline. Rather than using wire coat hangers as a frame, this project utilizes a cardboard box, which is already a favorite plaything of many cats!
12. DIY Suitcase Bed for Cats
Got an old suitcase lying around collecting dust? Here's a great way to repurpose it as a bed for your cat. You can even install feet on the bottom to prop it up off the floor. And, naturally, it's easy to travel with! All of your cat's items will fit inside for storage making it the perfect sleeper for anyone who travels with their cat often.
13. DIY Pet Bed Tutorial
All you need to complete this DIY pet bed is an old pillow, a sewing machine, and a piece of fabric. The plans are easy to follow along with and the result is ultra-comfy and plush. Plus, it won't cost you anything as you'll likely already have all the necessary materials on hand.
14. DIY Wooden Crate Pet Bed
With this project, you can turn an old wooden crate into a DIY cat bed. Paint it up to match any décor and it will fit in your home just as if it was made to since it was! This is the perfect project for those with minimal DIY skills who feel a bit intimidated by some of the other projects on this list.
15. Cardboard Box Cat Bed
Every cat owner knows that cats love cardboard boxes. Now, you can cover a cardboard box with your fabric of choice to offer your cat a bed it will actually love. What's great about this project is that there's no sewing required, and you can make this even if you have zero existing DIY skills. It's a great project to jump into the DIY world by making something that will see regular use.

Conclusion
No matter your DIY skill level, there's a project on this list that you can complete. These projects range from easy to complex, but all of them result in an awesome cat bed that your cat may or may not ever touch. Regardless, any of these projects will offer you an afternoon of fun as you put your DIY prowess to the test and see if you can make your project turn out as good as it looked in pictures!
---
Featured Image Credit: Alena Ozerova, Shutterstock