Your dog might like to sneak onto your bed or lounge around on your family's couch, but there is no doubt that they'd appreciate a bed to call their very own. They may seem content when laying on the ground, but if you're like most dog parents, you know just how much happier your dog is when it's sleeping on a soft, plush surface. Luckily, no pooch needs a human bed to be comfortable while they rest and sleep. All that's needed is a cozy dog bed to please a pup of any shape, breed, age, and size. There are a variety of different types of dog beds to choose from on the market, so the process of deciding which would be best for your dog can be a bit confusing.
We are here to help! We have combed through a gigantic number of dog beds to present you with the best of the best. We've compiled a list of different types of dog beds and explained their differences so you will know exactly what to expect from each one. Here's the low down:

The 5 Different Types of Dog Beds:
1.

Bolster Beds
The first dog bed type is called a bolster. Bolster beds feature a soft base and plush raised sides, designed to mimic the nesting box that a mother dog would give birth in. In nature, a nesting box might come in the form of a hole in the ground, a hollowed-out tree, or a cave of some kind.
But in the home or breeder facility, puppies are typically born in homemade or purchased boxes with sides that will make the babies feel warm and safe until they can see, hear, and walk on their own. As dogs age, they still like the comfort of knowing they are safe just like they were when they were babies.
A bolster bed is the perfect solution for those dogs who like to get under the covers or snuggle up in corners while sleeping. The soft bed will keep your pooch cozy for hours and the sides will provide them with a little extra support and more peace of mind while they sleep. This type of dog bed comes in a wide range of colors and a few different styles. Some even look like couches!
Our Favorite Bolster Beds:
1. Frisco Sherpa Rectangular Bolster Bed
Show your dog what ultimate comfort is like and enjoy a modern design that will complement any décor in your home.
---
2. Aspen Pet Bolster Cat and Dog Bed
Provide your pooch with their very own couch to lounge on during family movie night!
---
3. Precision Pet SnooZZy Round Shearling Bolster Dog Bed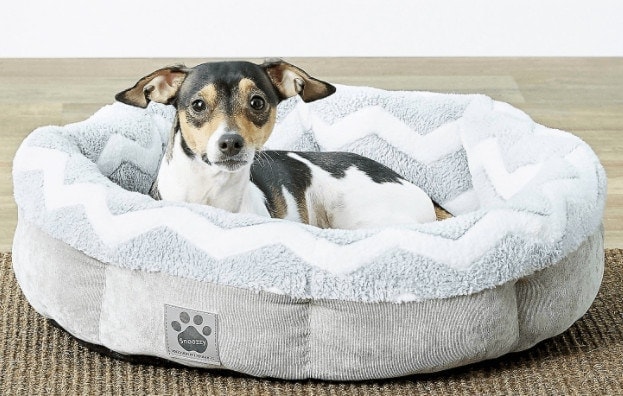 An excellent choice for use in crates and carriers, especially while on the road.

2.

Pillow Beds
This type of bed is as basic as it gets. But that doesn't mean a pillow bed is uncomfortable. Most are super soft and made with material that withstands water, food, and other stains. These beds can be put in a corner of your house so it's out of the way or placed on a bench so your pooch can sleep from a higher vantage point.
Our Top Picks:
1. Frisco Tufted Pillow Dog Bed
Dogs can sprawl out on this large bed. Seniors will appreciate the easy entrance.
---
2. FurHaven NAP Deluxe Memory Foam Dog Bed
This ultra-comfortable insulating memory foam bed is perfect for those cold winter nights.

3.

Elevated Beds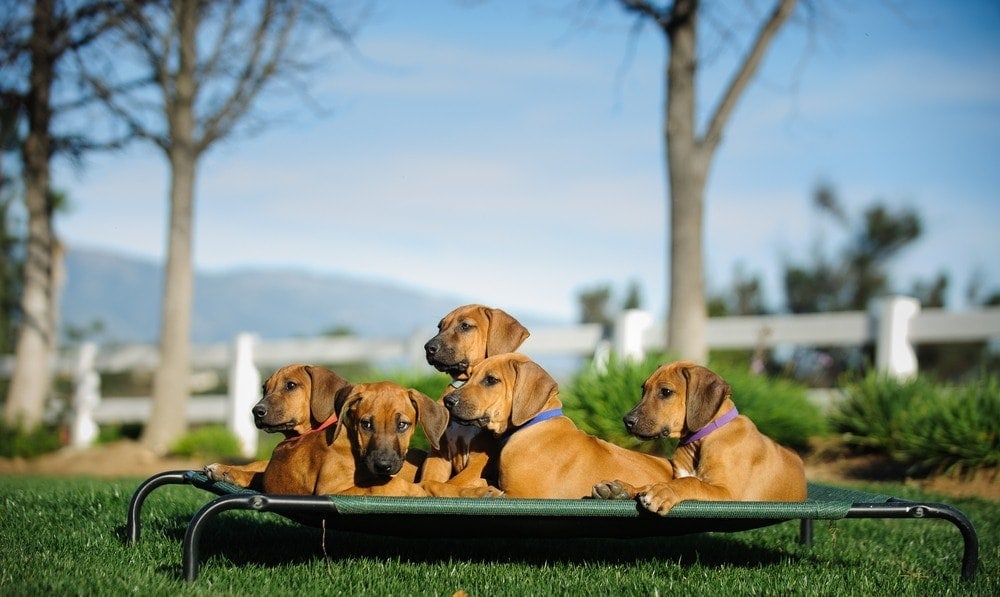 Every dog and owner can benefit from an elevated dog bed. This bed will keep your dog up off the floor, so they don't sleep on any pressure points. Elevated dog beds are breathable, easy to clean and maintain, and most can be used both indoors and out. Even younger pups will love snuggling up on an elevated bed out in the yard or during a camping trip.
Our Top Picks:
1. Gen7Pets Cool-Air Cot Elevated Dog Bed
Featuring a curved back for extra support and a powder-coated steel frame, this elevated bed is ready for anything – including the beach!
---
3. Frisco Steel-Framed Elevated Dog Bed
There are no frills here, except a sturdy and reliable bed that any sized dog would be comfortable on.
---
4. CoolaRoo Steel-Framed Dog Bed
This bed features an easy-to-clean surface and a modern design, making it an excellent choice for indoor use.

4.

Orthopedic Beds
Older dogs have a hard time getting up and down from the ground, especially when they have arthritis or simply sore tendons from lots of movement throughout the day. These beds can relieve hip dysplasia pain. And orthopedic dog beds can also help keep your dog's bones, joints, and tendons healthy as they age. Your older dog will wake up rested and ready to take on a long day of companionship.
Our Top Picks:
1. Brindle Waterproof Orthopedic Pillow Cat and Dog Bed
This bed is designed to resist water absorption and features a removable cover that can be conveniently machine washed.
---
2. MidWest QuietTime Defender Othropedic Bolster Cat and Dog Bed
Keep stains and odors to a minimum while offering your pooch a soft fleece sleeping experience they can enjoy for a lifetime.
---
3. Frisco Plush Orthopedic Pillowtop Dog Bed
The underlying convoluted foam cradles dogs and cushions joints for optimal comfort whether resting or sleeping.

5.

Tent Beds
Tent beds are like little homes exclusively for dogs. All but one side is enclosed so when your dog steps inside of their tend bed, they can escape the hustle and bustle of busy family life and dive into a dream-filled slumber that will leave them well-rested and comforted in the morning. These beds typically feature plush bases and walls made out of canvas, cotton, or waterproof material of some kind.
Our Top Picks:
1. P.L.A.Y. Pet Lifestyle and You Teepee Bed
Featuring a detachable cover and available in four interesting designs, this bed is easy to set up and take down for convenient use throughout the house.
---
2. Dog Whisperer Mudcloth Teepee Tent Bed
Sized for small dogs, you can quickly fold this bed up and take it with you whiletraveling so your pooch has a cave to retreat to while getting used to their new surroundings.
---
3. Frisco Tent Cat and Dog Bed
Your pup will love the super-soft cushioning and you'll appreciate the removable cover that is easy to clean and maintain.
Now that you know the different types of dog beds that are available to you, it's time to start the fun phase of shopping! Let us know what you think about these dog bed options, and we'd love to hear your bed choosing tips and tricks.