Cats are dapper creatures by nature, so if you haven't already invested in a stylin' wardrobe for your furrball, why not start now? To help you find your cat's purr-fect new accessory, we've trawled the internet for the best pet necktie ideas.
Disclaimer: no matter how adorable they are, your cat may hate neckties. If your furrball regularly loses his collar or claws at anything near his head, you may want to consider other outfit options. That said, we've heard of cats that hate everything else absolutely loving their new business attire!
Now let's get straight into some of the best necktie ideas for cats. Here are some adorable colors, styles, patterns, and ideas for making your own:
1.

Bacon & Eggs
Is there anything funnier than a cat wearing a brunch necktie? Though this tie is probably better suited to cat-sual Fridays (see what we did there?), we think your favorite business cat will enjoy his new look.
2.

Anchors Away
Yes, there's a necktie purr-fect for the preppiest cats! This nautical bow tie will look good on any fish-loving cat.
3.

Bumblebees
Bumblebees and honeycombs? This handmade necktie from Etsy is adorable — and sized for most adult cats. Suitable for quirky business cats!
4.

Snoopy
Is your cat more into comics than sailboats? This Snoopy bow tie is a guaranteed hit. Even better, these bow ties aren't just cute — they're also made with reflective threading, perfect for keeping your outside kitty visible at night!
5.

Plaid
Enough playing: for the most serious of business cats, there's always a simple plaid necktie. Perfect for presenting the latest furr-nancial reports or meeting the CEO (Cat Executive Officer).
6.

4th of July
For the patriotic cat in your life, may we suggest this adorable red, white, and blue bow tie? Whether your kitty is running for office or attending a 4th of July picnic, this fashionable piece is sure to paw-lease.
7.

Custom Silk Ties
Sometimes, only the best will do. And in the world of neckties, what's better than silk? You can order these fancy ties from Etsy — and best of all, you can choose from 13 different patterns and even add sequins!
8.

DIY Cat Neckties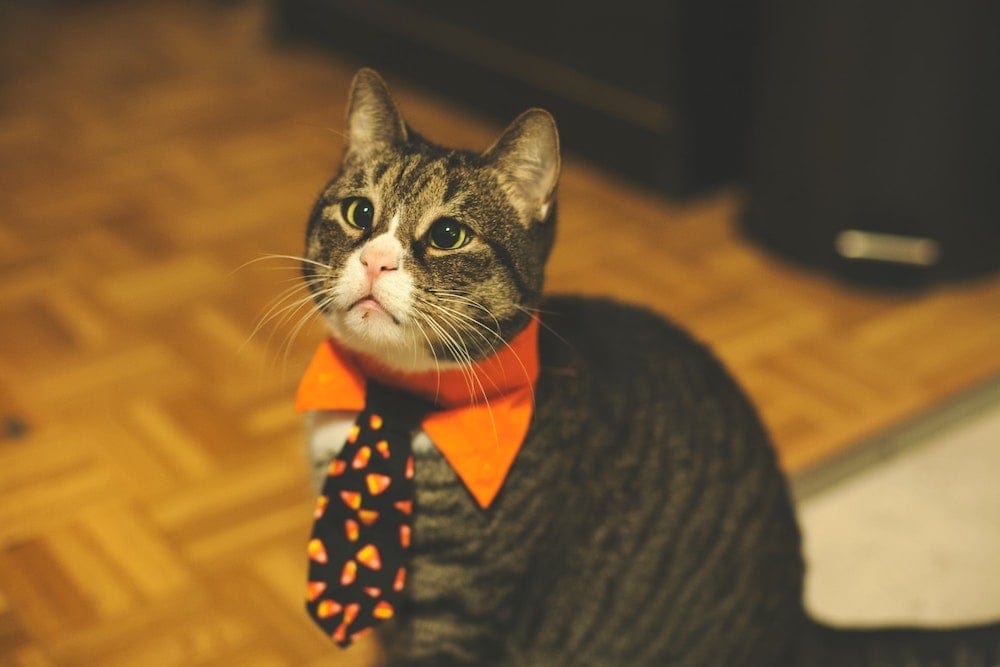 Don't want to spend money on your cat's stylish new accessory? You can make one at home using an old tie and a safety pin. Just steal the tie off of a businessy teddy bear, repurpose one of your old bow ties, or learn how to make a tie from scratch! Then pin the tie to your cat's collar and start the portrait session.
Conclusion
Did any of these adorable — err, professional — cat neckties catch your eye? From bacon to anchors to bumblebees, there are all kinds of fun patterns to choose from. You can opt for a staid business tie, lean a little more patriotic, or go for a dressy bow tie. And you can always whip up a homemade necktie for your cat!
You might also be interested in:
---
Featured image credit: Unsplash